Are you in search of a WordPress education plugin? Here in this article, I am going to list the best WordPress education plugins that you can use for your E-learning WordPress website.
Online education is a growing field within the education industry. Online courses have become a popular way for people to advance in life.
To market your skills in this way, you will need an effective way to connect with potential customers.
A good way of reaching out to such learners is by building a website. Yet, most regular sites don't have the functionality to allow for online learning. That is where the WordPress education plugins come in. A WordPress LMS website with many courses accessible online from anywhere at any time will be a great way to do this.
Learning Management System or LMS plugins allow you to create and run online courses. It could be like Udemy running with WordPress. It is vital to choose the very best WordPress LMS plugin for your online learning website as it will provide end-to-end services. And these services include tools and features for managing your online course content.
The WordPress education plugins will take care of handling subscriptions, running and grading quizzes, accepting payments, and more.
If you have already created your website you can go on with this article. Otherwise, you can follow our step-by-step guide to create a website on WordPress.
Once your wordpress website is ready, you can then choose any of the WordPress education plugins listed below for your website. These plugins will allow you to create, manage, and sell online classes from your website.
Here are the list of the best wordpress education plugins
Best WordPress Education Plugins
1. Learndash
LearnDash is taking cutting-edge e-learning methodology and infusing it into WordPress. More than just a plugin, LearnDash is trusted to power the learning programs for major universities, small to mid-size companies, startups, entrepreneurs, and bloggers worldwide.
LearnDash transforms your WordPress website into a powerful learning management system (LMS). In minutes you can create & sell courses, track user progress, deliver certificates, award points & badges, and more.
LearnDash is a popular among the best WordPress education plugins with many powerful features.
It comes with a simple drag and drop course builder, which allows you to easily create multi-layer courses with lessons, topics, quizzes, and categories. You can deliver all your lessons at once or schedule them for the entire course duration with its Drip-Feed content feature.
Using LearnDash, you can give your users assignments and then approve or comment on them. It also comes with quiz and test management tools with multiple question types. You can easily set prerequisites for students, such as finishing a lesson first before going to the next lesson.
It offers plenty of monetization options including subscriptions, one-time purchases, memberships, and a shopping cart for your online training course. You can accept payments using multiple payment gateways including PayPal, Stripe, and 2Checkout.
Who uses Learndash?
Here are list of schools using learndash to power their courses
Can i use other plugins with Learndash
Yes, LearnDash integrates seamlessly with the tools that you already use and love: WooCommerce, Easy Digital Downloads, BuddyPress, MemberPress, PayPal, Stripe, bbPress, GravityForms, ThriveCart, Mailchimp, and 300+ other apps when using our Zapier integration.
What is the cost of Learndash LMS plugin
Starting from $159 for a single site license with 1 year of support and updates. Here you can find out the prices of Learndash LMS plugin
If you are serious about offering online courses, then LearnDash is the WordPress LMS plugin for you.
Here is a demo to see how Learndash works
Also Read: How to delete plugin in WordPress
2. LearnPress
LearnPress is a comprehensive WordPress LMS Plugin for WordPress, just like WordPress Moodle or Moodle for WordPress if you know what Moodle is. This is one of the best WordPress LMS Plugins.
LearnPress is a free WordPress LMS plugin with powerful features. Unlike other LMS plugins in this list, which come with a setup wizard, LearnPress lets you do the setup on your own.
Each course curriculum can be made with lessons & quizzes which can be managed with an easy-to-use user interface. With this WordPress LMS plugin, you can quickly and easily create education, online school, online-course websites with no coding knowledge required.
LearnPress is free and always be free, but it has a premium high-quality WordPress Plugin which will probably help you make money from your WordPress-based LMS.
LearnPress WordPress Online Course plugin is lightweight but super powerful with lots of add-ons to empower its core system.
What are the features of Learnpress
LearnPress supports WordPress Multisite
Create course
Manage course
Sell course
Communicate with your students
LearnPress provide a bunch of add-ons
LearnPress is free and always will be
it is actively developed
LearnPress works with any WordPress theme, but you can also choose from one of their own LMS WordPress themes. This helps you avoid any compatibility issue and offer a better experience for users.
Here is a demo to see how Learndash works
Also Read: How to Install WordPress Plugins
3. Tutor LMS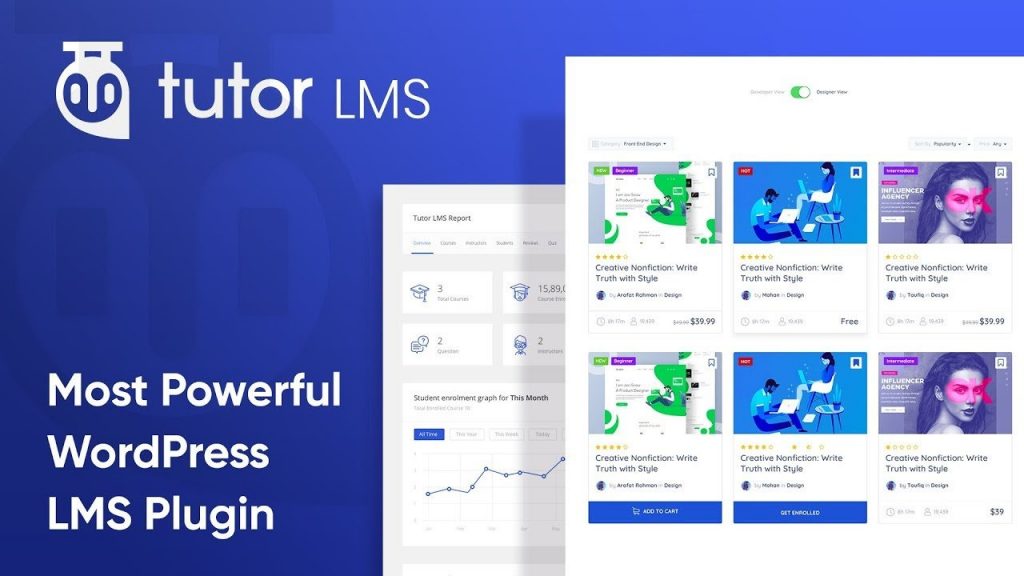 Tutor LMS is a complete, feature-packed, and robust WordPress LMS plugin to create & sell courses online easily. All the features of this learning management system hit all the checkpoints for a full-fledged online course marketplace.
You can create challenging and fun quizzes, interactive lessons, powerful reports, and stats making Tutor potentially the best free WordPress LMS plugin.
Manage, administer and monetize your education, online school, and online courses without having to write a single line of code.
Tutor LMS is a completely free WordPress LMS plugin with premium high-quality add-ons that you can add to empower the core plugin more! This WordPress LMS plugin is lightweight with add-ons to enable certificates, e-mail notifications, shopping carts and so much more!
Want to know all the latest news and be part of the Tutor LMS community? Join Tutor LMS Facebook Community
Features of Tutor LMS
Here are the most notable features of Tutor LMS plugin.
Intuitive course builder
Unlimited courses and lessons
Frontend student dashboard
Video lessons
Multiple video sources (self-hosted, YouTube, Vimeo, Embedded Video)
Teacher profiles and panels
Lesson management
Course requirement & instruction
Quizzes
Earning & Commission Allocation
Withdrawal Options
Purchase History
Styling Options
Course Widget
Teacher registration form
Course review and rating system
Q&A for students with course teacher
Video Poster (trailer/teaser)
Tracking course progress
Course Difficulty Level
Define Course Duration
Course Marketplace
Add course requirement and instruction
Quiz Timer
Quiz Attempts
Centralized Monetization Settings
Spotlight Mode
RTL Ready
Page Builder Support
Gutenberg compatible
Content Security
Also Read: How to Increase The Speed of Your WordPress Website
4. LifterLMS
LifterLMS among the best WordPress education plugins that make it easy to create, sell, and protect engaging online courses and training-based membership websites.
It works with any well-coded WordPress theme and all the popular WordPress page builders (like Elementor, Beaver Builder, Divi, etc.).
As an engaged WordPress community member, LifterLMS actively encourages and helps other great plugins integrate with LifterLMS like Affiliate WP, Monster Insights, WP Fusion, the most popular form plugins, GamiPress, Astra Pro, the Course Scheduler, and many more.
You can also connect your WordPress LMS website to 1,500+ other apps via Zapier. LifterLMS is one of only 11 WordPress plugins listed in the Zapier app directory.
More About LifterLMS
LifterLMS is another powerful WordPress LMS plugin with a lot of neat features. It allows you to create engaging online courses and offer wonderful learning experiences to your students. It is easy to set up, even on existing WordPress sites.
LifterLMS supports multi-tier courses with training modules, lessons, categories, and more. It gives you the flexibility to create smaller courses or full-fledged degree programs. You can add multimedia lessons including video, audio, text, images, and more to make your courses more appealing.
It has content dripping, course pre-requisites, and group memberships to offer even greater control over how your courses work.
To boost user engagement, it comes with powerful features like automated emails, gamification with badges, and even certificates upon completion of a course. It has built-in content restrictions allowing you to restrict any WordPress page on your website to members only.
LifterLMS has a useful collection of add-ons, which you can use to manage affiliates, integrate with eCommerce plugins, connect to your email marketing service, etc.
There are multiple options to accept credit card payments, one-time or recurring payments, sell course bundles, offer coupons, etc. Among payment options, you can integrate it with PayPal, Stripe, or receive payments manually via check.
5. MasterStudy LMS
MasterStudy is the comprehensive software for feature-rich educational websites. The LMS plugin can turn any WordPress website into a professional online platform that enjoys all industry-specific e-learning & LMS features. It provides you with the tools to create and sell online courses.
This versatile WordPress LMS Plugin has all essential Learning Management System (LMS) features for managing courses, quizzes, and educational content. It helps with selling your courses, creating lessons, and delivering online education services.
6. Sensei LMS
Sensei LMS is one of the powerful WordPress education Plugins. Sensei is created by the folks behind WooCommerce. It is flexible and easy to use and follows the same best practices as WordPress and WooCommerce.
Course creation with Sensei is easy, but not as powerful as with other solutions on this list. You can run quizzes, assignments, grade them automatically or manually, and even offer badges and certificates to students.
To sell your courses and accept payments you will need to use WooCommerce. For each course you want to sell, you will have to create a product and then link it to your course.
There are not many third-party integrations available. You can integrate Sensei with a membership plugin, but there is no addon for that.
The Key Features in This WordPress LMS Plugin
The extension merges well with WooCommerce and WordPress, and the user experience isn't much different than making a WordPress page or post.
The majority of WordPress themes on the market integrate fine with Sensei.
The user registration is done through WordPress, so once again, those familiar with WordPress should find Sensei easy to learn.
The WooCommerce integration allows you to instantly charge for a course, whether it be as a subscription or on an individual basis.
The simple course analytics provide information on grading, course completion, and students registered.
The quizzes aren't anything special when it comes to design, but several templates are offered for things like true/false, single line, file upload, and multi-line tests.
Sensei displays random quizzes based on a bank of questions you set prior to launch.
Quiz grading can be set to automatic or manual.
Also Read: 155 Profitable buyer keywords you need in your SEO strategy
7. Teachable
Teachable is a powerful online course builder. It is not a WordPress plugin, but you can use it on a sub-domain, a custom domain name, or by simply adding a link to your school's page.
Teachable hosts your course and provides you with all the tools you need to build highly interactive online courses. It also comes with built-in email marketing integration, analytics, and other marketing tools.
For payments, Teachable will handle your course fees and you will be paid out using PayPal or Stripe. Payment periods may vary depending on your pricing plan.
8. Dozent LMS
Dozent LMS is a comprehensive WordPress LMS plugin and online course solution for WordPress which lets you create your own eLearning platforms like Udemy, Coursera, edX, Teachable, Thinkific, or LinkedIn Learning in an Elegant way.
It is a learning management system plugin for WordPress. It's a WordPress LMS (Learning Management System) solution that enables you to share the knowledge you have, create & sell courses online easily.
Its powerful frontend course builder lets you create courses, lectures, and quizzes right from the frontend. This unique feature makes Dozent LMS one of the best free WordPress LMS plugins.
Dozent LMS comes with a superior course builder that unlike anything you've seen in the WordPress LMS plugin industry. Each course curriculum can be created with sections, lectures, and quizzes using the revolutionary course builder right from the same old WordPress panel.
No matter if you're using the frontend course builder or the backend course builder, with this WordPress LMS plugin you can create a complete course without having to leave the current page.
Using Dozent LMS you can seamlessly create an eLearning website whether you're an individual, educational institute or corporate organization. The core features of this WordPress LMS plugin come in the FREE version. So, while using the Dozent LMS plugin, you don't have to spend a penny until you make some.
Dozent LMS is FREE WordPress LMS plugin and will always remain FREE for all the educators out there. Everything you need to run a WordPress powered fully functional eLearning site is available in the free version.
Features
Dozent LMS Certificate
Free course without registration require
Free course with registration
Paid Course
Secure Video Streaming for lecture video
Create Unlimited Courses
Unlimited Sections
Create Unlimited Lectures
Create Unlimited Quizzes
Video lectures
Course requirement & instruction
Revenue Share between Platform Owner and instructor
Course Order History
User registration form
Course Trailer / Teaser (Supports Video)
Multiple Instructors
Course Difficulty Level
Video Course Duration
Quiz Attempts
Focus Mode
Quiz Timer
Youtube Video
Vimeo Video
MP4 Video
Embedded Video
Embedded Content
Ratings and reviews
Course search engine
Course filtering feature
Find courses by Video Duration
Find courses by Ratings
List view, grid view
Course Wishlist
Private discussion between instructor and students
Earnings and Withdraws
Instructors, Students public profile
Instructors, Students frontend dashboard
Ultra-fast WordPress LMS plugin
WooCommerce Integration
Easy Digital Download (EDD) Integration
RTL Ready
9. Namaste
Namaste! LMS is a learning management system for WordPress. Supports an unlimited number of courses, lessons, assignments, students, etc. You can create various rules for the course and lesson access and completeness based on assignment completion, test results, or manual admin approval.
Namaste! LMS lets you assign different user roles to work with the LMS and other roles who will manage it.
Students can earn certificates upon completing courses. Grade and Point systems let you mark the students performance.
10. CLUEVO LMS
Cluevo LMS allows you to add SCORM e-learning modules, video tutorials, podcasts, and other media to your WordPress site. That Content can be organized into courses, chapters, and modules and you can easily manage the permissions for different users and groups.
11. WP Courses LMS
WP Courses is a full-featured, free learning management system ( LMS ) that makes creating courses on your WordPress site easier than ever with an intuitive interface, drag-and-drop tools, video tutorials, and more.
Also Read: Step By Step Ultimate Guide To SEO
12. WP Courseware
WP Courseware is another great WordPress LMS plugin that comes with a drag and drop course builder.
Course creation in WP Courseware is powerful and includes tons of features to create large or small online courses. Each course can have multiple modules, units, and quizzes. It supports course pre-requisites and content drip features. See our guide on how to add an LMS in WordPress with WP Courseware.
WP Courseware offers instructor profiles, student grade books, custom emails, and many other features that help create an engaging experience for users. It also comes with a question bank so that you can quickly create quizzes for different courses and modules.
The plugin also includes powerful monetization features to sell online classes on your website. It has a built-in shopping cart option where you can directly connect PayPal or Stripe and start selling your courses.
You can also create free courses and provide users a way to try out your classes. This could encourage them to buy a full course. You can sell paid courses as a one-time purchase or recurring subscriptions.
See Demo
Also Read: How to run a successful business
13. Ultimate Learning Pro
Ultimate Learning Pro is a new WordPress LMS Plugin that will help you create a premium Learning platform for your future Students & Instructors. You'll be able to easily create courses, reward your students, gather feedback, and much more!
14. Good LMS
Good LMS is a learning management system plugin for WordPress. You can find many great features for creating and selling online and onsite courses.
About payment, the learner can choose to pay by Paypal, Stripe, Paymill, or Authorized.net directly or they can choose to transfer by other methods(Admin can provide other methods such as bank transfer) then learners will have a submission form in the backend to submit payment evidence(Bank transfer receipt for example). After the learner submits, the admin can check the evidence in the admin's backend and approve or reject the submission later.
For Onsite Course, the learner can fill the amount of package in case of purchasing for friends. After purchasing, the learner will get the reference code which is used for the instructor to compare with the record in the date of studying.