In this article, I will discuss the social platforms beyond Facebook, YouTube, and Twitter. and will help you identify which ones are most appropriate for your marketing needs, and guide you through the process of determining how best to market on them.
Finding the Right Social Platforms
If I were to start a new business, it would probably be a business that, through some magic formula, would tell marketers which social platforms their specific customers are spending most of their time in a given month, with guidance on how to reach them.
I would probably make a fortune for the simple reason that it's hard to find these customers beyond the major social platforms.
It's easy to learn the paid and unpaid marketing solutions on the second rung social platforms.
What about the rest? How do you as a marketer beginning to apply social influence marketing know where your customers are spending their time? Making your job even harder is the fact that you can't just focus on social networks.
You need to look more broadly at the video Websites, mainstream media Websites, blogger networks, and social media publishing tools that are all beginning to incorporate social functionality.
To help you identify the social platforms, I'm going to share a four-step process for identifying the right social platforms on which to find your customers. But before I do that, I'd like to classify the social platforms into a more meaningful segmentation.
Understand your customers
To discover where your customers are spending their time online, you need to begin by understanding them better. Depending upon their socio-technographics (which means how your customers engage on the social platforms), they might be spending a lot of time on the major social platforms or very little.
The first step in understanding them is to determine their participation levels in the social Web. talk to your customers and conduct social influence research to discover how they use the Web, whether they socialize online, where that takes place, and how their friends and networks influence them.
Even a small sample of users can yield a lot of valuable information about their online behaviors and the social platforms that they're engaging on. Often, the best way to do that is to ask interviewees to come in for the interviews with a few friends and observe them interact with each other.
You can then supplement this in-person form of research with site surveys to get statistically significant results. And then, of course, you can also research what consumers are saying online about the product, company, or brand.
Don't ignore peeking into these conversations, as sometimes it's more insightful than any other form of research. Social behavior online is changing at a rapid pace, so consider putting an ongoing social research program in place.
The ways your customers use the social Web probably change every three to six months. You want to be ahead of those changes, so ongoing research is important.
Research the platforms
Just as it is extremely important to understand your customers and where they're spending their time online, and with whom, it's extremely important to research the social dynamics of the various social platforms.
It's no use proposing a social influence marketing strategy that covers YouTube if you don't really know how marketers can and are
allowed to use YouTube. Nor will your marketing efforts be a success using that social platform.
I discuss how you can market on the major social platforms, covering Facebook, YouTube, and Twitter, but there's more to the social Web than those platforms. Knowing what is permissible and appropriate for the other social platforms can be tricky.
There aren't any hard and fast rules and the advertising industry is just beginning to establish guidelines, advertising formats, and best practices.
Although a lot of the marketing tactics on social platforms are still in their infancy, a few practices and standards are starting to emerge. These can be classified as follows:
Traditional display advertising:
Think of these as display banners that you see elsewhere across the Internet. These banner ads generally have cookie-based behavioral and other forms of targeting overlaid on top of them.
They're sold and measured as traditional display banners are (primarily through CPMs, or cost per impressions, and CTRs, or click-through rates).
Social advertisements:
These ad formats bring a person's social graph into the ad unit itself, encouraging engagement (imagine if you saw a friend's photograph in an advertisement) or pushing similar advertisements to friends of a person who clicked a specific advertisement.
Sometimes these social advertisements include user-generated content and are targeted based on browsing patterns of friends in a network.
Sponsorships:
Drawing inspiration from the advertorials of print publishing, these ad formats encourage bloggers specifically to discuss certain topics. You can establish specific rules governing what can be blogged about, but the bloggers have a lot of freedom too.
When you see these posts, they're typically marked as sponsored ones. Sponsorships are becoming more popular on Twitter, too, although, keep in mind that some bloggers find pay-per-post formats and incentives distasteful.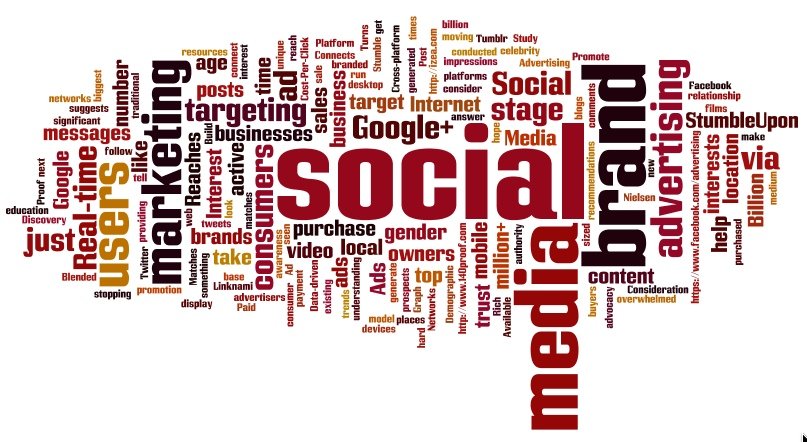 Influencer marketing:
Social platforms like CafeMom give you access to influencers who are given assignments to perform and then discuss the results on their blogs or their social platforms.
For example, Kohl's gave CafeMom influencers gift cards and opportunities to explore their favorite colors at Kohl's stores. Each mom then returned to the site and wrote about their shopping experiences.
Widgets and applications:
Several social platforms allow the creation, launch, and seeding of widgets and applications on their platforms. You can either sponsor popular widgets or create new utilitarian or entertainment ones that fulfill a specific purpose for the users and have a tie-in with a brand.
When launched, these widgets are promoted by the social platform and typically include a media buy as well. Sponsored music players on MySpace and myYearbook, for example, are becoming quite common.
Brand pages:
Just as the major social platforms allow for the creation of brand pages, so too do the other social platforms. These may differ in functionality and purpose based on the platform, but they're all virtual homes where you can promote your products, showcase your
latest advertising, and launch promotions and contests.
They can often include games, screensavers, desktop backgrounds, iconography, and the ability to recruit fans.
Gifting:
Mimicking Facebook's extremely successful gifting program, more and more niche social platforms offer gifting-related advertising. You can offer users gifts, such as a virtual birthday cake or chocolates, that they can share with their friends.
The gifts are extremely viral, and the advertising buy runs out once the gifts have.
Other promotional opportunities:
Most niche social platforms offer other similar related branding opportunities. These include sponsoring different parts of the social
platform, or sponsoring applications, polls, and contests.
Other opportunities include pairing members together to accomplish tasks, sharing database information for remarketing and customer research purposes, and social merchandising.
Advertising formats for the social Web are in a state of flux. New ad formats are emerging just as old ones are being retired. The rules for advertising on the Internet are changing too as a result. The advertising formats by definition cannot be totally comprehensive.
RFP the vendors
After you've decided which social platforms are appropriate for your target audience and have a sense of what can be accomplished on them, consider issuing requests for proposals (RFPs).
It may become a time-consuming effort but it helps you in the long run. The RFPs matter if your marketing effort is going to exceed $7,500. If you're planning on spending less on your marketing efforts, it may be better to use the cheaper, less sophisticated, self-service tools provided by the major social platforms.
Here are some pointers to consider when issuing RFPs:
Describe your objectives explicitly.
The social platforms are vying for your business. The more explicit and specific you can be about your marketing and campaign objectives, the more the social platforms can provide a response that meets your needs.
Don't shy away from telling them exactly what they need to know. This means describing your audiences in incredible detail too. You're fundamentally looking to match your audiences with theirs and build engagement around it.
Some social platforms are invariably a better fit than others.
Be clear about your benchmarks for success.
The social platforms need to understand how you're going to measure the success of your marketing efforts. It's important to be very clear about those benchmarks, as you'll probably be holding the platforms to them as well.
Most social platforms (as well as other publishers on the Internet) would rather know how they're going to be measured before participating in an RFP.
Accordingly, a few of them may even choose to drop out of the process. They're always more interested in a long-term mutually beneficial relationship than a one-off partnership that hurts their credibility.
Recognize that you're getting free advice.
When you're issuing a request for proposals you're asking the social platforms to prove why they're the right places for you to market. But not only are you getting their credentials, you are also getting a lot of great ideas too.
As a result, it's important to be completely fair and transparent during the RFP process. Even if you do not choose a specific platform, you're going to learn a lot from them while going through the RFP process.
Furthermore, they'd have put a lot of time and effort into responding to the proposal. You owe it to them to be transparent, clear, and appreciative of their efforts. Providing feedback on why you didn't choose them when you can is also important.
Beware that you can be limited by who you RFP.
When issuing RFPs, it's easy to forget that you're limiting yourself by whom you ask to participate in the RFP process. Therefore, choose carefully who you invite to participate in the RFP process.
Make sure that you're casting a wide net and are including all the different types of platforms that may be able to help you achieve your marketing objectives.
For example, social platform vendors that provide appvertising solutions on Facebook, like Buddy Media or Context Optional, may get left off of the RFP process because they're neither social platforms nor social platform infrastructure providers.
They sit somewhere in between. The same applies to a social gaming company like Playfish, which provides some exciting opportunities for advertisers to reach specific audiences.
Evaluate and plan strategically
Planning is, of course, the most important step. As you plan your SIM campaign on a niche platform, you want to make sure that you're reaching the audiences that you want to and are engaging with them in an authentic, transparent, and meaningful fashion.
Choosing the niche platform is always part art and part science. I've spent time discussing the science part of the question. how you find where your audiences are, what they're doing, and what tactics are most appropriate.
So now I want to look at the art piece of the equation. This means having an intuitive sense for the following items:
Knowing which social platforms can extend or strengthen your brand.
You don't want your brand to be tightly associated with a social platform that has a mixed reputation.
Having a sense of which social platforms are on the verge of breaking out and growing in size and scale.
Victoria's Secret Pink practiced SIM on Facebook in its early days and those efforts have paid off today. What's the next Facebook?
Being able to separate the wheat from the chaff.
This matters especially with the niche social platforms. Because hundreds of them are out there, many of which have a lot of traffic, knowing which ones have meaningful social engagement and can help you achieve your marketing objectives can be tricky.
Thinking beyond audiences and reach.
Traditional advertising online has always focused on audiences and where they are. But with social influence marketing, you have to think in terms of the influencers and the exponential value of their participation and engagement. Don't just use the traditional display banner metrics.
Being in it for the long run and not getting impatient.
Social influence marketing requires patience: the patience to build relationships, to test, to learn and optimize, and to think beyond the confines of a campaign.
These philosophies apply all the more when you're practicing SIM on niche platforms. They may not give you the results that you want on the first day or the first month or the first quarter, but they've been proven to showcase strong results over the long term.
Thinking holistically and strategically.
Most importantly, think holistically about your social influence marketing efforts. Think about how you want your marketing efforts on the niche platforms to work with those on the major social platforms and on your own Website too.
Don't treat them all as separate, disjointed marketing efforts. They need to work together. And ideally, these marketing efforts should also be coordinated with offline marketing efforts too where one feeds the other.
Moving Beyond the Platforms and the Blogosphere
A discussion about marketing in the social Web would be incomplete without addressing the role that companies, which create new advertising opportunities on the social platforms, play. For lack of a better name, I call them social platform enhancers.
They're not social platforms and do not have their own audiences. Nor are they advertising agencies or public relations firms who can help you market on the social platforms.
Some of them function as advertising networks that sit on top of the social platforms, whereas others are more similar to software companies that build applications and widgets for the social platforms and the blogosphere.
Regardless of how they fit into the social ecosystem, they play an important role and you can harness them for marketing purposes.
In the next few sections, I discuss a few of the types of social platform enhancers.
Social advertising network
The first type of platform enhancer is the advertising network. Many of the most successful applications on Facebook belong to networks of applications that solicit advertising in a unified fashion by aggregating audiences.
Sometimes the network is just one application developer who owns and manages a series of extremely popular applications. In other cases, several application providers band together to form a network and solicit advertising.
RockYou and Slide are the leading advertising networks that reside within Facebook and MySpace. Their Facebook and MySpace applications serve as a home for brand advertising.
Through them, you can place branded ads, application promotions, and integrated sponsorships next to specific applications on those social platforms.
Appvertisement providers
In conjunction with the advertising network are the platform enhancers who build appvertisements for brands. These appvertisements combine the best of advertisements with useful or entertaining applications: hence the name appvertisement.
These appvertisements harness a person's social graph and are designed to provide meaningful value to users, often by having them contribute and personalize the application.
This can be in the form of entertainment, information, or a utility that can sit within a social environment like a Facebook profile page. They're designed to be social in nature, encouraging people to install the application and have their friends install it too.
These appvertisement providers work with your advertising agency to define and build the appvertisement and then guarantee a certain number of paid installations by leveraging the social advertising networks.
Gigya, BuddyMedia, and ContextOptional (www.contextoptional.com) are all examples of appvertisement providers
Blogger networks
Approximately 10 million active blogs are on the Internet, of which probably not more than 10,000 have significant traffic. But even reaching these bloggers can be challenging.
It's a question of scale. As a marketer, you certainly don't have time to reach out to 10,000 bloggers yourself. This is where blogger networks enter the picture.
Every day, more and more bloggers are organizing into blogger networks that represent them. The representatives align marketers with the appropriate blogs, promote the blogger network, manage the relationships with the bloggers, and handle all advertiser relations.
Many blogger networks also have dashboards that allow you to choose different advertising options by selecting audiences, specific topics, and blogs through which you want to market.