Here in this article, I am going to teach you step by step How to create a real estate website on WordPress.
Do you own a real estate business? or want to make money through real estate listing business where agents can sign up? I am going to show you everything you need to do to create a real estate website for your business.
Why do you need a website?
When it comes to marketing, your website is a powerful marketing tool.
There's no excuse why you shouldn't have a website, even if you are just starting your business.
One of the most obvious benefits of having a small business website is that it enables people to find you online and get in touch with you easily.
It helps gain a competitive advantage in your industry and improve your business image.
I have helped thousands of people learn to create a website and earn money from their website as well as creating websites for clients.
This guide is useful for users of all ages and skill levels. However, if you need help, then you can contact our expert team to help you create your website.
I'll walk you through everything from start to finish. Just follow along with the instructions and you'll have a professional-looking website at the end.
What do you need to start creating a real estate website?
First, to start creating a real estate website you need a domain name and a web hosting account.
Why do you need a domain name + web hosting to be able to create a website?
A Domain name is the name of your website that people will type in their browser (chrome, firefox, opera mini, e.t.c) to visit your website.
Example of other website domain name:
facebook.com
realjossy.com
google.com
twitter.com e.t.c
Now you know what a domain name is you can learn more here
What is a web hosting?
Web hosting is an online service that enables you to publish your website or web application on the Internet. When you sign up for a web hosting service, you are renting some space on a server where you can store all the files and data necessary for your website to work properly.
If the domain name is the web address of your website, then web hosting is the home where websites live.
You need both to be able to create a website
However, it's important to remember that they are two separate services, and you can buy them from two different companies.

You just need to edit your domain name settings and enter the Name Server information provided by your hosting company.

I recommend getting both your domain name and hosting from the same company. This allows you to easily manage them under the same account.
Learn more about Web Hosting
Now Let go ahead and get these two things so you can start creating your real estate website.
Login to www.realjossy.com and go to HOSTING as shown below. and click on WordPress hosting.
choose a plan to start with depending on your budget. for this tutorial let choose the starter lite plan. and selectly the monthly plan since you are just learning how to create a website.
Note: you can always upgrade your hosting server anytime when your space is filled up without creating a new website.
When you have selected your plan click the Buy now button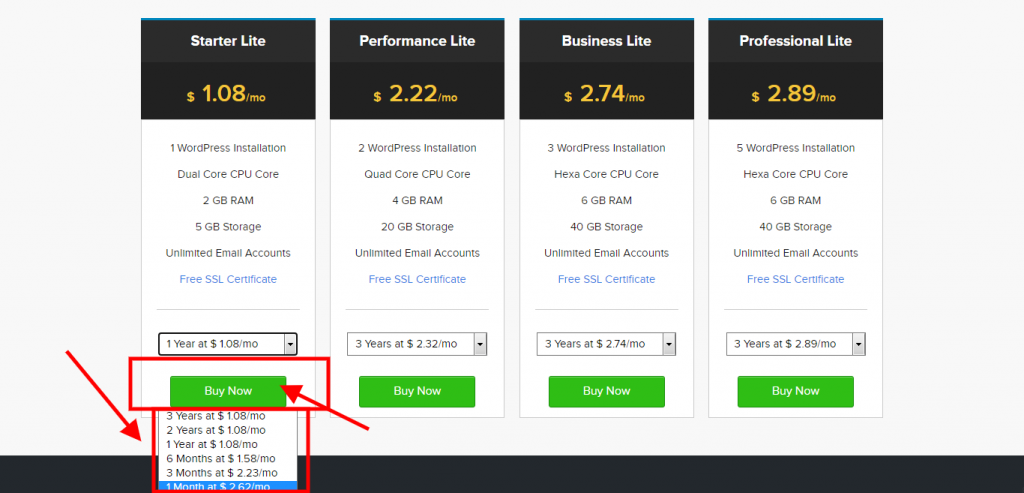 After you have chosen your plan, the next page screen will display asking you to put your domain name.
If you already have a domain name you can choose "I already have a domain name" If you don't have a domain name you can choose " I want to buy a new domain name" put your desire domain name and click the checkout button.
You will be taken to a page where you will create a hosting account using your Email
Scroll down and click the Create an Account in 10 seconds and make payment to complete your order.
After your payment, your hosting account will be activated with your account login detail sent to your registered Email Address.
Get your login detail and go to www.realjossy.com to login into your hosting account.
Go to Realjossy and click on the Login Botton on the Menu of the website
On the next page click on Login to your HOSTING ACCOUNT
On the next page, Login in with your hosting account login detail to access your Hosting dashboard
The image below is how your hosting dashboard looks like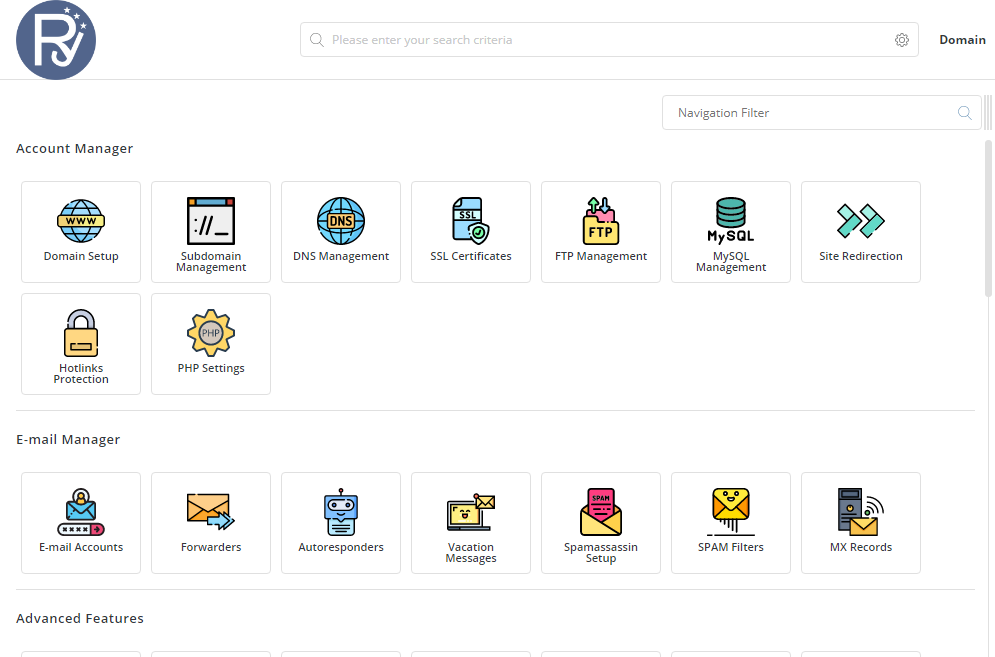 From here you will start creating your website
what are you going to do next?
Scroll down and locate Softaculous Auto Installer Tool as shown below
When opened, click on WordPress as shown below to install
On the next page, click on Install Now
On the Next page there are some settings you need to set
I will explain everything to you
On the Image below, Delete the WP
scroll down on same page to get to the image shown below
put a strong password… you can create a new password, or you can choose to use your hosting account password
Note: they are two different login. so try to remember your passwords
I will advice you use your hosting account password so you can easily remember both
The next is your Admin email. An email with be created automatically for you with your domain name as seen below "admin@lilkimzy.com"
Scroll down and click the INSTALL BUTTON
Your WordPress website will be installed successfully.
Click on the domain name to view your website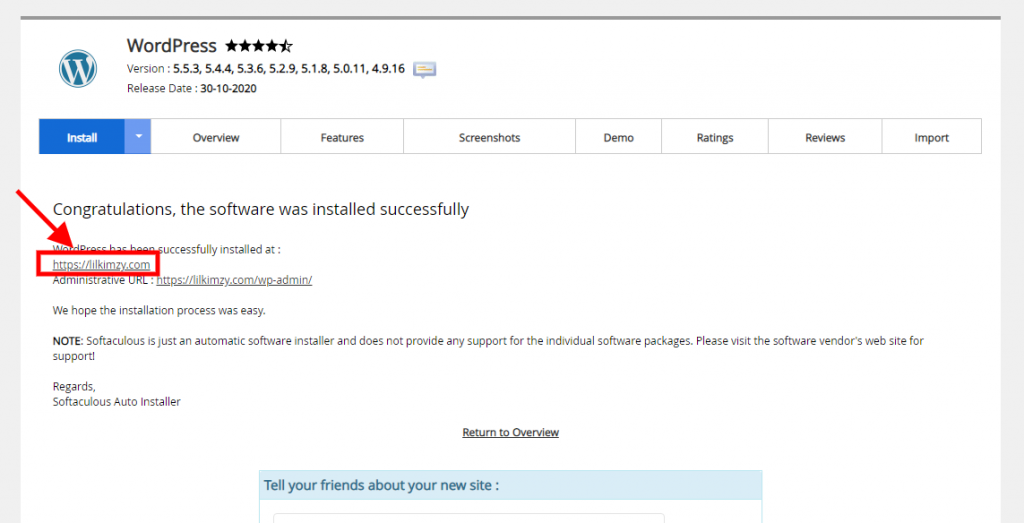 This is how your website will look like
What do you do next?
Let start designing the website by installing a theme to make the website look better
Now, Login to your admin backend to edit your website
To login to your admin backend type in /admin to your Domain name
it will look this way… www.lilkimzy.com/admin
enter your username and password
Another alternative to login to your WordPress admin backend without using your username and password is to go through your hosting control panel > Softaculous Auto Installer > WordPress
Scroll down to get to the image shown below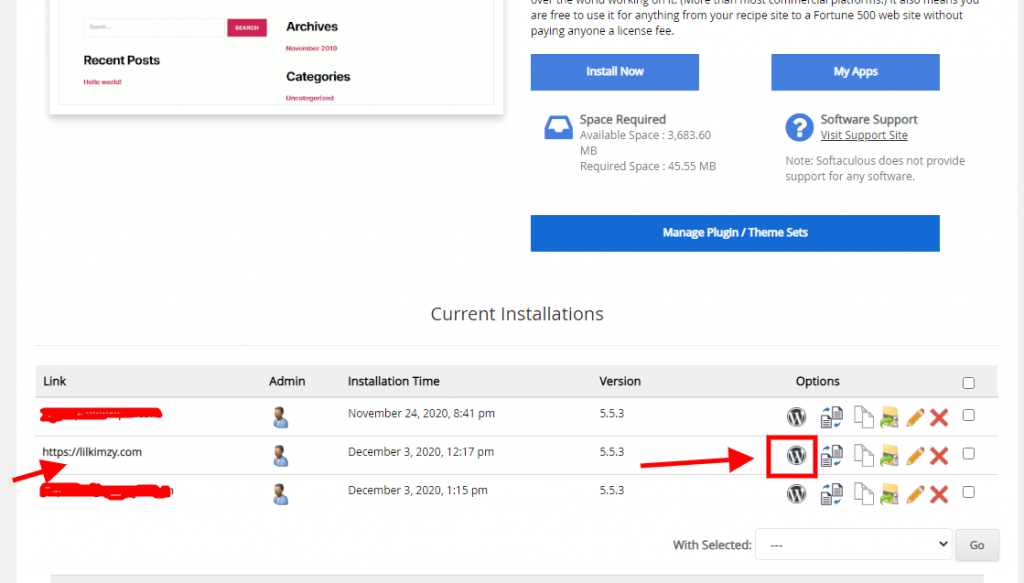 Locate the domain name you want to edit… and click on the WordPress logo
you will be taken to the next page as shown below
Now, click on the login button that has the domain name and you will be taken straight to your WordPress admin backend.
the image below is how your admin backend will look like
What you have to do next is to install a theme … Now we are going to install an Astra theme
Go to Appearance > Theme > Add new
Next, use the Search field to search for Astra
When you see the Astra theme, simply bring your mouse on top of the image. This will reveal the install button, preview button, and details button.
Go ahead and click on the install button.
Click on the activate button after installation.
Next is to go to Astra options under the appearance tools.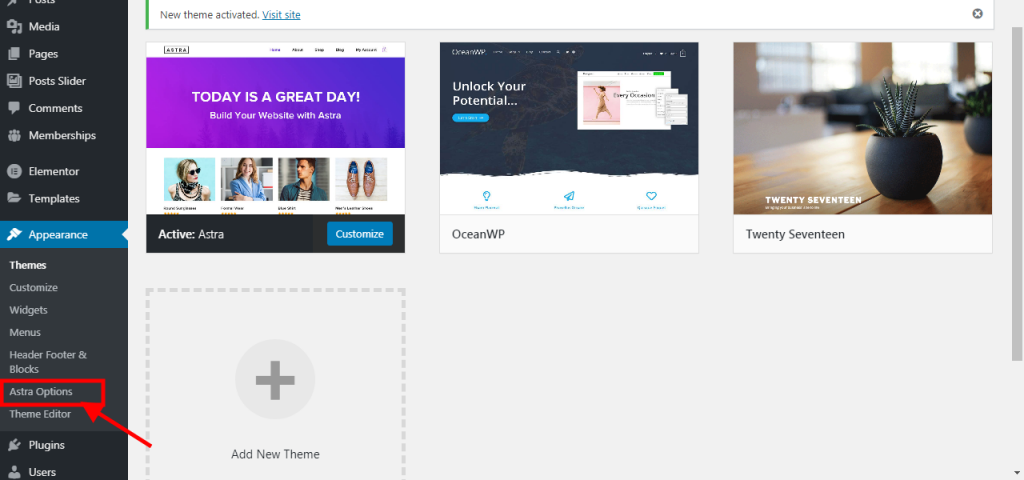 Install the importer plugin
After installment, a page will appear as shown below. choose the Elementor page builder
From this page below you can choose the template, you would want to install on your website.
To create an auction website let search for a template called real estate
Here is the template we are going to use. Click on it and click the import complete site button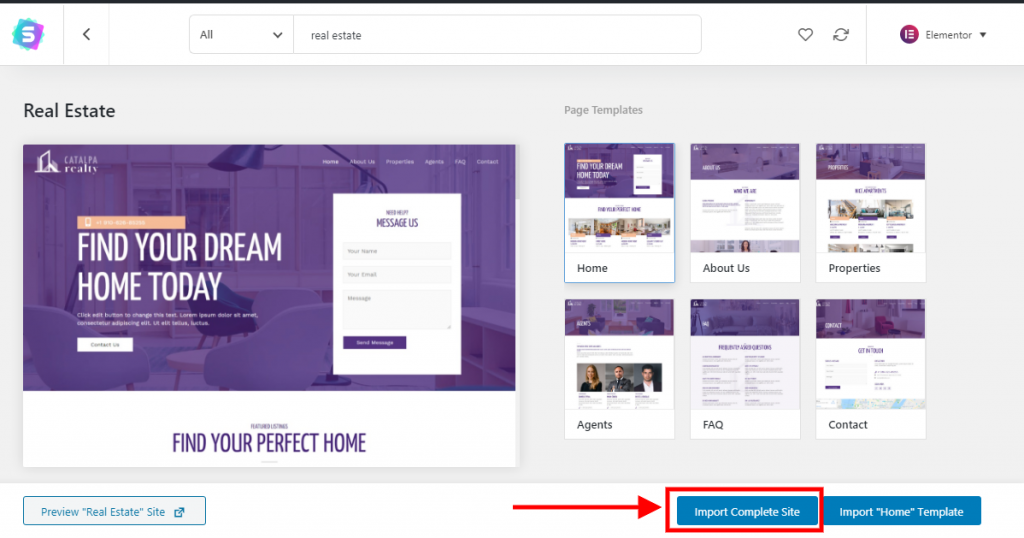 A new page will display. check all the buttons and click import
After installing has been completed, you can choose to view the website, or exit the page and refresh your tab to still stay on the admin backend
What you are going to do next is to install a plugin called Essential Real Estate
Go to Plugin > Add new
use the plugin search to search for Essential Real Estate
After installing click on Activate
This is the end of it… What you have to do next is to configure the plugin to suit your needs by clicking the Essential Real Estate Plugin on the Tools Bar. and also, customize your Real Estate website using the Appearance tool. and edit your Real Estate website page using the Pages tool
This is How to Create a Real Estate Website
If this article helped you please share it so your friends and family can learn how to create a website on WordPress just as you did now
If you need any help please contact me and I will be glad to help you set up your website for free.